Simple use case……you want to connect to a customer system over the internet. The customers system has an API but requires 2-way SSL. This means we have to send a client certificate along to make sure the SSL handshake can be completed. If your server has already a server certificate installed, it will send this one along by default but the customers system won't accept it as it is different then what it trusts. In the next section, I will explain how to add a client certificate to an outgoing OSB call.
Let's say I want to connect to my favourite climbing shop www.mountaingear.com as they have a nice backend api to take orders. The guys from mountaingear.com created a certificate for me to send along with the call.
First I am going to generate a keystore with a private key in it, to simulate the certificate which the third party gave to me.

keytool -genkey -keyalg RSA -alias climber -keystore keystore.jks -storepass password -validity 360 -keysize 2048

If I open the created JKS using keystore explorer I see a keypair we just created.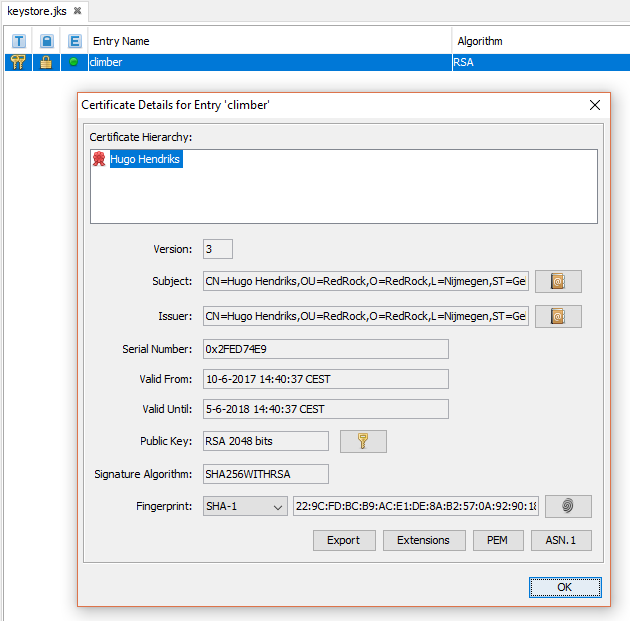 Copy the jks to my OracleHome say ORACLE_HOME/keystores.
The next thing we have to do is to create an PrivateKeyInfrastructure Provider. Go to weblogic console and then:
Security Realms
myrealm
Providers
Credential Mapping
New –> Set your name here. Mine is MountainGearPKIProvider. Set the type to PKICredentialMapper. Click OK to finish.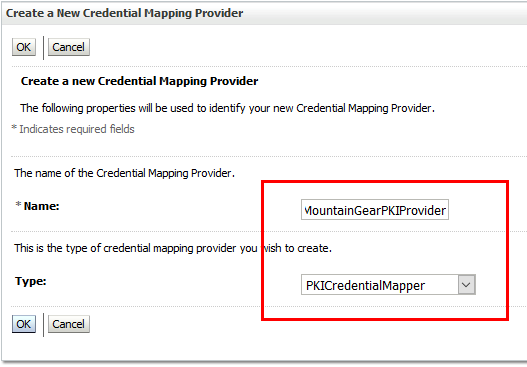 Restart the Admin server for the changes to take effect.
When the admin server has restarted we are going to configure the PrivateKeyInfrastructure Provider we just created. Go to weblogic console and then:
Security Realms
myrealm
Providers
Credential Mapping
MountainGearPKIProvider
Provider Specific –> KeystoreType = JKS, Keystore File Name = The location of your just created jks…mine is G:\Oracle\Middleware\OracleHome\keystore\MountainGear.jks, KeyStorePassphrase = password, Confirm KeyStorePassphrase = password. Click Save to finish

Restart the Admin server again for the changes to take effect.

After this, go to the SBConsole and start a new session. In a project, create a folder which will hold the ServiceKeyProvider. Mine will be in my Accounts project. Create a ServiceKeyProvider in this new folder and select using SSL Client Authentication the right certificate. Set the password, save it and activate it.

The reason why we do this in the OSB console is that it cannot resolve the PKIProvider in JDeveloper. The only work around is to create it on the server and then export your project and import it into JDev. After you have done this, you can see your ServiceKeyProvider.

The last step now is to make sure it is send along with a flow. The only thing we have to do, to accomplish this is to select the proxy service and go to the Security tab. Here you can select the Service Key Provider.