Working in the integration business, you probably noticed quite an increasingly upcoming market of data sources which are no longer on premise. With more and more PaaS and SaaS solutions, the need to integrate them becomes obvious. Salesforce should talk to your on-premise CRM system and your custom applications should update your Twitter feed for example. Back in the day, you would get a piece of software usually called something with Gateway in the name. It would be able connect your internal enterprise software to the evil and scary outside world and usually do something extra like authentication, authorisation and monitoring. But integrating with Salesforce is different then integrating with SAP so you have to build quite a lot of custom software which is expensive. Also you had configure every new connection to the outside world as you don't want unwanted people fiddling around with your internal services.
How handy would it be, if there was a platform which was located in the cloud and which was able to connect to SaaS vendors out of the box? Then you just have to make 1 connection from your company network to the platform and every data stream could be configured through there.
Well ladies and gentlemen, meet iPaaS aka Integration Platform as a Service.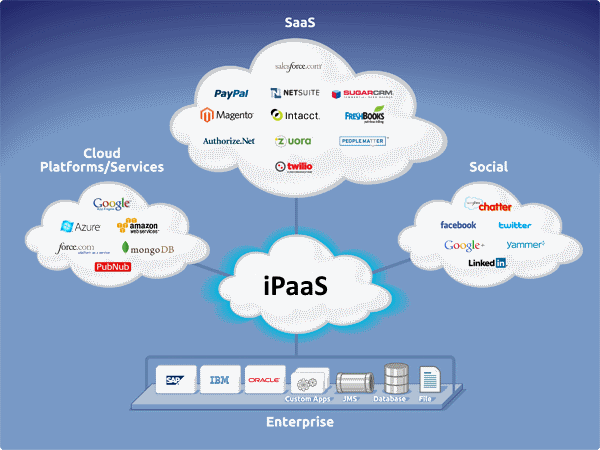 At this moment there are quite some vendors which offer an iPaaS solution. You have the obvious big boys such as Oracle, Microsoft and IBM but also some lesser software behemoths which according to Forrester, Gartner and Ovum are taking the cake. Lets look at the reports for 2016.

In the left graph, you can see the Forrester Wave.
In the middle graph you see the Gartner Magic quadrant and in the right one you see the Ovum decision matrix
As an Integration consultant working with Oracle software I was surprised Oracle wasn't present in 2 of the 3 reports. Oracle's Integration Cloud Service was identified by Gartner as a visionary but they aren't in the magic quadrant as they seem to lack ability to execute at the moment.
Dell Boomi
Looking at all the three reports, Dell Boomi has the best papers.
Dell Boomi serves sMBs and large enterprises with a unified, multipurpose integration platform to address multiple use cases, master data management (MDM), electronic data interchange (EDi), and APi management. Dell Boomi's templates and crowdsourced data mapping suggestion capability enable it to support nonintegration specialists in a limited manner. Dell Boomi continues to innovate, introducing, for example, features like a new online community site and crowdsourced capabilities for support, suggestion, and error resolution. the vendor fits particularly well with sMBs looking for an all-purpose integration product to avoid investing in too many integration skills. large enterprises can also adopt Dell Boomi as a tactical choice to complete their soA strategic investments to cover cloud integration needs. some large companies that are unhappy with their heavy soA investments would benefit from turning to Dell Boomi as a strategic choice. Dell Boomi should guide integrators with governance and canonical formats to reduce the complexity of maintaining point-to-point interfaces.
It has a lot of application connectors right out of the box.
Web based IDE
Architected specifically for cloud-based delivery
Pricing start from 550,- dollars per month
Mule CloudHub
Mulesoft is also scoring well in the leader quadrant in two reports.
MuleSoft CloudHub has matured significantly since its introduction in February 2011, and is widely used by midsize-to-large enterprises for achieving cloud service integration. MuleSoft has executed an aggressive product roadmap and strategy to achieve impressive subscription growth over the last two-to-three-year period. MuleSoft CloudHub offers easy federation with Mule ESB, a lightweight and scalable ESB, to effectively support hybrid integration needs. In addition, MuleSoft Anypoint Platform for mobile enables API-led connectivity with backend applications and data sources, such as Salesforce.com, ServiceNow, SAP, and Siebel applications/platforms.
Also a lot of pre-build connectors
Platform lift and shift from on-premise to Amazon cloud
Anypoint eclipse based on-premise IDE
Pricing unknown
IBM WebSphere Cast Iron Cloud Integration
Also scoring strong in all 3 reports.
IBM WebSphere Cast Iron Cloud Integration is a relatively mature solution capable of supporting a range of integration needs, including cloud-to-cloud, on-premise-to-cloud, and mobile application integration. It offers easy connectivity to several other WebSphere middleware platforms to cater for key integration requirements, including B2B integration (via IBM Sterling Commerce suite) and API management. It can be used with IBM Mobile Foundation bundle to achieve connectivity between mobile applications developed on IBM Worklight and other on-premise and SaaS applications.
Very complete solution with an ESB, BPM, BAM, MFT
WebSphere Iron Cast Studio on-premise based IDE
Pricing unknown
Jitterbit
One of the the runner-ups…
The Jitterbit Harmony platform addresses multiple integration requirements, including data, process, hybrid, B2B, real-time APi management, and iot integrations via a single, comprehensive platform. Jitterbit is available through direct sales teams in north America, Europe, and Asia and includes a free 30-day trial available from the website. it has a differentiated partner program with more than 200 resellers, technology companies, and independent software vendors, including Autodesk, Microsoft, netsuite, salesforce, and SAP, to deliver prebuilt integration solutions and templates for specific business and industry processes that enable business users and technologists to quickly connect applications, data, and business processes across on-premises and cloud environments. Jitterbit's single, multitenant cloud platform fits particularly well with companies that are strategically moving to the cloud but need to connect with on-premises systems and databases. Jitterbit has 12 years of integration expertise, has 40,000 freemium and paid customers, and is based in the san Francisco Bay area.
Limited market share but ambitious
Web-based IDE
Pricing start from 2000,- dollar a month